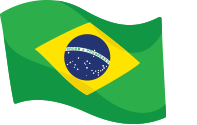 Brazil
Tortuguita Brigadeiro (19g)
By Arcor
$0.69
This turtle shaped chocolate is filled with brigadeiro, a delicious chocolate cream popular in Brazil since the 1940s.
What is in this?
Contains Milk
Contains Soy
See Full Ingredients

Sugar, Chocolate Filling [Sugar, Cocoa Powder, Vegetable Oil (Palm), Salt, Emulsifier (Soy Lecithin), Glazing Agent (Shellac)], Condensed Milk, Cocoa Butter, Whole Milk Powder, Inverted Sugar, Cocoa Paste, Vegetable Oil (Palm) Cocoa Powder, Salt, Humectant (Sorbitol), Emulsifiers (Soy Lecithin, Polyglycerol Esters of Fatty Acids, Mono and Diglycerides of Fatty Acids), Acidulant (Citric Acid), Natural Flavoring.